Learn the Best Practices for Successful Facebook Advertising
Getting started with Facebook Ads can be tough. Everyday we see many advertisers giving up because they don't know the basic rules to create campaigns that not only perform well, but also drive real results to your business.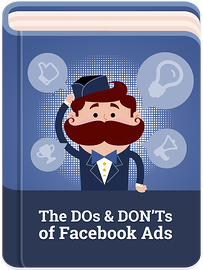 Fear not, we're here to help! Download these free slides to learn the following:
The differences between Google & Facebook Advertising
6 Ways to create an effective ads design
How your customers think and how to convince them to buy
How to target your advertising to the perfect audience
Tips from pros to save money when bidding for Facebook Ads
How to optimize your funnel to generate more sales through Social Advertising
All the techniques described in this ebook can be easily executed by everyone, even if you have zero expertise in advertising! Download your free copy of The Do's & Don'ts of Facebook Ads now!